Andrea Hairston In Conversation With Sheree Renée Thomas
Join us on Tuesday, August 31 at 6pm CT for a conversation between authors Andrea Hairston and Sheree Renée Thomas about the paperback release of Andrea's book Master of Poisons. This event is in partnership with Tordotcom.
This is a free event, but you must register with one of the bookstores below. If you choose to purchase a paperback copy of Master of Poisons, you'll also receive a signed bookplate and an exclusive, limited-edition designer bookmark! 
You can purchase your book from any of the following participating stores:
Brain Lair Books
Copper Dog Books
Loyalty Bookstore
Old Firehouse Books
Third House Books
Tubby & Coo's Mid-City Book Shop
The bookmark is made from maplewood and features Andrea's books.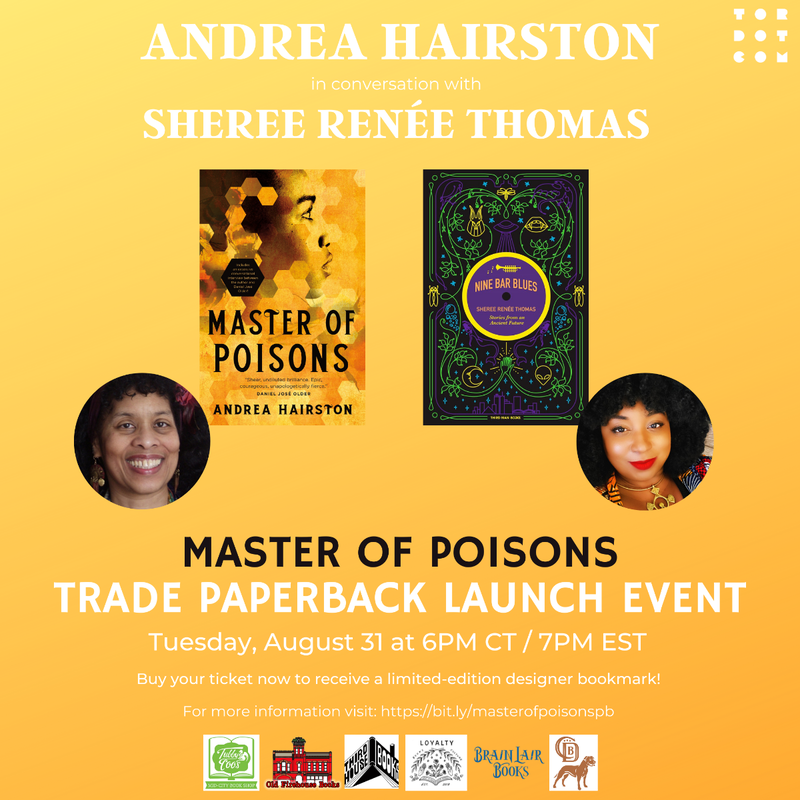 Aspects of History and Future: Announcing Five Books From Andrea Hairston
Tordotcom Publishing is excited to announce an exciting deal with the incredible Andrea Hairston. Andrea's most recent book, Master of Poisons, was chosen by Kirkus as one of the Ten Best Sci…
The 36th Annual Printers Row Lit Fest
Printers Row Lit Fest The 36th Annual Printers Row Lit Fest, the largest free outdoor literary showcase in the Midwest, returns to Printers Row September 5-6, 2020. printersrowlitfest.org