Worldcon's 2021 Hugo Award Ceremony Welcomes Andrea Hairston as New Co-Host | Tor.com
Andrea Hairston will be joining Sheree Renée Thomas as co-host of this year's Hugo Award Ceremony, set during DisCon III (aka the World Science Fiction Convention, aka Worldcon) later this month.
Welcome | Arisia 2022 • January 14-17, 2022
Arisia is planning an in-person convention in January 2022 at the Westin Boston Waterfront hotel. All attendees will be required to be fully vaccinated.
AUGUST 31, 2021 - Andrea Hairston In Conversation With Sheree Renée Thomas​
Join us on Tuesday, August 31 at 6pm CT for a conversation between authors Andrea Hairston and Sheree Renée Thomas about the paperback release of Andrea's book Master of Poisons. This event is in partnership with Tordotcom.
This is a free event, but you must register with one of the bookstores below. If you choose to purchase a paperback copy of Master of Poisons, you'll also receive a signed bookplate and an exclusive, limited-edition designer bookmark! 
You can purchase your book from any of the following participating stores:
Brain Lair Books
Copper Dog Books
Loyalty Bookstore
Old Firehouse Books
Third House Books
Tubby & Coo's Mid-City Book Shop
The bookmark is made from maplewood and features Andrea's books.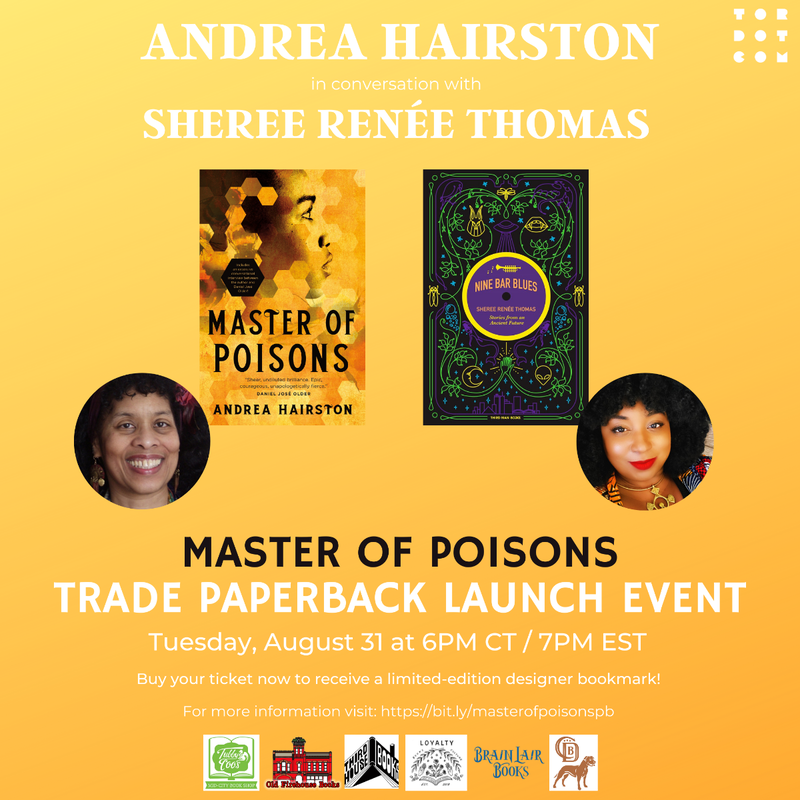 September 24, 2020 at 7:30 pm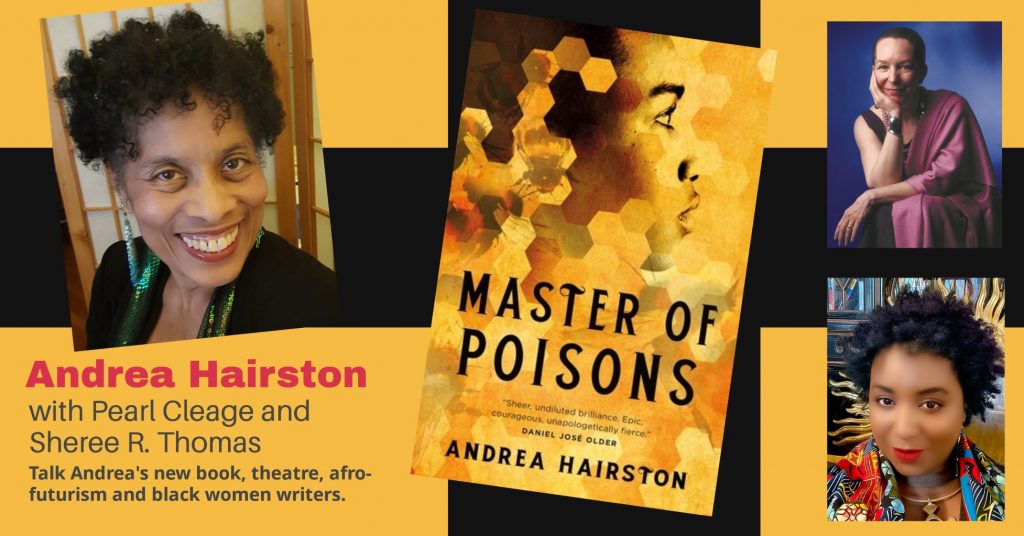 The Smith College Department of Theatre and the New Play Reading Series are excited to host an evening of readings to celebrate the release of Master of Poisons a new novel by Andrea Hairston, Louise Wolff Kahn Professor of Theatre and Professor of Africana Studies via Zoom on September 24 at 7:30 pm. Joining Andrea in conversation about Master of Poisons, theatre, afro-futurism, and black women writers are award-winning playwrights and authors Pearl Cleage and Sheree R. Thomas who will also read from their own work.
---
September 2-24, 2020 - ANDREA HAIRSTON VIRTUAL BOOK TOUR
---


International Conference on the Fantastic in the Arts: Climate Change and the Anthropocene
March 18-21, 2020 Orlando, Florida
(Cancelled)
---


WISCON– a feminist science fiction & fantasy convention held annually in Madison, Wisconsin.
May 21-25, 2020
---

Readercon–The conference on imaginative literature, thirty-first edition.
July 9-12, 2020
Boston Marriott Quincy, Quincy, Massachusetts.
---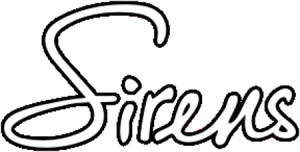 Sirens– dedicated to discussing and celebrating the remarkable work of women and nonbinary people in fantasy literature.
Denver, CO, Oct 22-25, 2020


Arisia 2020 • January 17-20, 2020 •
Westin Boston Waterfront
New England's Largest, Most Diverse Sci-Fi & Fantasy Convention

---