The world is changing. Poison desert eats good farmland. Once-sweet water turns foul. The wind blows sand and sadness across the Empire. To get caught in a storm is death. To live and do nothing is death. There is magic in the world, but good conjure is hard to find.
Djola, righthand man and spymaster of the lord of the Arkhysian Empire, is desperately trying to save his adopted homeland, even in exile.
Awa, a young woman training to be a powerful griot, tests the limits of her knowledge and comes into her own in a world of sorcery, floating cities, kindly beasts, and uncertain men.
Awash in the rhythms of folklore and storytelling and rich with Hairston's characteristic lush prose, Master of Poisons is epic fantasy that will leave you aching for the world it burns into being.
Said Andrea Hairston:
Master of Poisons is about denial and the empire of lies we're willing to believe. It's about decolonizing the mind. I wanted to write myself out of the hopelessness we feel facing devastation. This is a book about the stories we tell and the communities we make to do the impossible.
I am an Afro-Futurist in league with Indigenous-Futurists. I want to bring the wisdom of recovered ancestors into conversation with the future.
Stories that have been lost, stolen, or hidden call to me. As a speculative writer, I try to conjure the stories that did not get written down. Characters, particularly women, who get left out of the action raid my mind. Bold characters in the midst of wild adventures—I can't shut them up! They wake me up at night and won't let me sleep until I take note of everything they have to say. I have researched West African, African American, and Indigenous theatre artists who struggle to realize their artistic and personal dreams in the United States from the 1800's to the present. I have drawn on this research to write Master of Poisons and am thrilled to work with Tor.com Publishing.
Said Ruoxi Chen:
Master of Poisons is one of those books that will sink its vines into your nerves and you will willingly, happily, feverishly go down in its embrace. Andrea has created a brilliant fantasy world here with griot-storytellers, wild dogs, pirate queens, floating cities, protective bees, warhorses, hungry elephants, and angry rivers. In Djola's and Awa's stories, she has also crafted an urgent, relatable narrative about people facing an existential threat and a controlling hierarchy in deep denial.
Andrea is a griot of griots, a storyteller capable of bewitching a reader so thoroughly you will return to the everyday world with the haze of a mythical one still in your eyes. I am so excited to help bring this singular story to readers.
WILL DO MAGIC FOR SMALL CHANGE
"[A] beautifully multifaceted story… Highly recommended." —The New York Times
Andrea Hairston's historical fantasy Will Do Magic for Small Change presents a tale of alien science and earthbound magic and the secrets families keep from each other.
Cinnamon Jones dreams of stepping on stage and acting her heart out like her famous grandparents, Redwood and Wildfire. But she's always been theatrically challenged. That won't necessarily stop her! But her family life is a tangle of mysteries and secrets, and nobody is telling her the whole truth.
Before her brother died, he gave Cinnamon The Chronicles of the Great Wanderer—a tale of a Dahomean warrior woman and an alien from another dimension who perform at the 1893 Chicago World's Fair. They are a story of magic or alien science, but the connection to Cinnamon's past is unmistakable.
When an act of violence wounds her family, Cinnamon and her theatre squad determine to solve the mysteries and bring her worlds crashing together.
Redwood and Wildfire is a novel of what might have been.At the turn of the 20th century, minstrel shows transform into vaudeville which slides into moving pictures. Hunkering together in dark theatres, diverse audiences marvel at flickering images. This "dreaming in public" becomes common culture and part of what transforms immigrants and "native" born into Americans. Redwood, an African American woman, and Aidan, a Seminole Irish man, journey from Georgia to Chicago, from haunted swampland to a "city of the future." They are gifted performers and hoodoo conjurors, struggling to call up the wondrous world they imagine, not just on stage and screen, but on city streets, in front parlors, in wounded hearts. The power of hoodoo is the power of the community that believes in its capacities to heal and determine the course of today and tomorrow. Living in a system stacked against them, Redwood and Aidan's power and talent are torment and joy. Their search for a place to be who they want to be is an exhilarating, painful, magical adventure. Blues singers, filmmakers, haints, healers, and actors work their mojo for adventure, romance, and magic from Georgia to Chicago!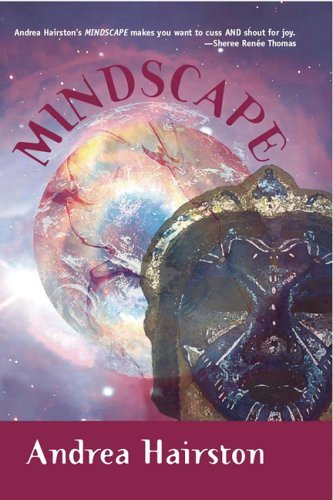 MINDSCAPE
Mindscape takes us to a future in which the world itself has been literally divided by the Barrier, a phenomenon that will not be ignored. For 115 years this extraterrestrial, epi-dimensional entity has divided the earth into warring zones. Although a treaty to end the interzonal wars has been hammered out, power-hungry politicians, gangsters, and spiritual fundamentalists are determined to thwart it. Celestina, the treaty's architect, is assassinated, and her protegée, Elleni, a talented renegade and one of the few able to negotiate the Barrier, takes up her mantle. Now Elleni and a motley crew of allies risk their lives to make the treaty work. Can they repair their fractured world before the Barrier devours them completely?"Andrea Hairston's Mindscape starts with a vision of the way things ought to be and then takes us along on the amazing journey that must be undertaken to make that vision a reality. Her ability to fully imagine an alternate reality without sacrificing the familiar words and rhythms that provide outsiders a way into the story make this a book not just for true believers, but for those who still think they "don't like science fiction." After Mindscape, my guess is they'll see how meaningless such categories are. In the presence of a visionary author like Andrea Hairston, all you have to like is good writing!"
—Pearl Cleage, What Looks Like Crazy On An Ordinary Day and Baby Brother's Blues"
What rich and provocative territory this amazingly written first novel explores, what memorable characters it compels us to confront-renegade gene scientists and ethnic throwbacks, slippery politicos and "expendable" Extras, ghost dancers and double consciousness diviners conjuring through an enigmatic veil-each struggling in complex circumstances to navigate survival, identity, and self in a world thrown off its course, each speaking in distinct voices that stay with you long after you've left their unforgettable stories. Science fiction at its best, Andrea Hairston's MINDSCAPE makes you want to cuss AND shout for joy-its vision, raw humanity, and ultimate hopefulness are exhilarating. What a pleasure it is to be invited into a world so large and muscular, so sensual and rooted in global history, a world in which not only the future but the past is at stake."
—Sheree Renée Thomas, Dark Matter: A Century of Speculative Fiction and Dark Matter: Reading the Bones, winner of the 2001 and 2005 World Fantasy Awards